Friends in the Dark
August 24th, 2012
The opening reception for my first solo art show was held on Thursday, August 2nd, at Upper Playground's Fifty24PDX Gallery in Portland, OR and it couldn't have been any better! Thank you to everyone who came out and supported me!
Friends in the Dark is a collection of over 30 new oil and acrylic paintings featuring lucent monsters and cadent beauties that illuminate a bleak and shadowed world. In this realm, creatures first appearing to be strange or savage become familiar and benevolent upon closer look, revealing the underlying theme that it is better to walk with friends in the dark than to walk alone in the light.

Detailed images of the new pieces have been added to the Illustration page and a list of those still available can be found on my blog HERE. The exhibit will run through September 27th, 2012. Please contact FIFTY24PDX Gallery for any information on purchasing artwork at:

fifty24pdxgallery@gmail.com or (503) 548-4835


Photos from the opening reception:
Hi-Fructose Magazine: Studio Visit
A few days before the Portland show, Ken Harman, owner of Spoke Art Gallery, stopped by the ZeroFriends headquarters for a studio visit on behalf of Hi-Fructose Magazine.
More photos of my work space can be seen on the Hi-Fructose website here: http://hifructose.com/2012/08/07/studio-visit-with-dave-correia/
Free Print, In Flames, Book 5, New Prints
November 25th, 2011
Starting Thanksgiving weekend, for every $15 you spend on my site, you'll receive a free 5x7 print from my first sketch book. The giveaway lasts until the end of the year!
A few months ago I completed the album art for the new In Flames album. I did the album cover, all the interior art and I also drew the single covers. It was an absolute blast working with In Flames and their management. It's always nice to work with a group of people who are supportive and enthusiastic about the final product. This was the first album I've worked on, and I'm really proud of how it came out.
I also just learned that the album went Gold in Sweden. Of course, I had nothing to do with that, but it's still cool to see good people achieve the success they deserve!

This summer, for San Diego Comic-Con, I put together Book 5. I made a couple hundred copies and they all sold out at the show. I just had another run of the book made, and they're now available for purchase on my site. Much like my previous book, it's a compilation of sketches and pencil drawings from my most recent sketch book.
I've also added a few new prints to the store:
That's it for now. I'm currently working on a bunch of projects that are kinda secretive until they come out, so I can't share too much with you. But they include; a couple of book covers, conceptual art for an (incredibly amazing) short animated film, and a ton of new work for my first solo show later next summer. I'm really excited how everything is turning out. Also, please check out the Events page, and if you are in one of the areas I'll be in, swing by and say "hi".


April Update - Meltdown, In Flames, Nightmares
April 9th, 2011
2011, so far, has been insane for me. I don't think I've taken a day off this year and I've probably slept a total of 6 hours in the last 4 months. I can't complain though, I'm extremely grateful for all the opportunities I've been given, and it's only going to get more amazing. But I'd like to share with you some of the projects I've completed as well as a few things I'm currently working on.


The first is "Skele-Toddler" from the Gag Me With A Toon show that Steven Daily so graciously curated at Meltdown Gallery in LA. Masters of the Universe was a huge part of my early years, so it seemed like the right thing to do by paying homage to one of my favorite childhood villains. I've also added this painting to the store as a print.
I was also asked to be a part of the Inle show that Greg "Craola" Simkins put together at Gallery 1988 in LA. The show line-up was amazing. Seriously, most of my favorite living artists were in this show, it was actually kind of intimidating.
Earlier this year, I was asked by Swedish metal maestros In Flames to do all the artwork for their upcoming album. You see, back in high school, believe it or not, I was the lonely dude dressed in all black who listened to metal music in class on my disc-man. Well, In Flames was definitely part of my compact disc rotation. So of course I got all giddy and jumped on the opportunity to work with them.

This is the cover for their first single "Deliver Us". But also be sure to check out their full length album later this year, I filled the interior booklet with all kinds of cool new drawings.
On April 9th, awesome friends Tara McPherson and Sean Leonard open their new boutique Cotton Candy Machine in Brooklyn. They are launching the event with a show that involves 100 artists who each contributed a tiny piece for $100. It's a great way to get one of your favorite artists' work for so cheap!
Also in April, I'll be participating in a show at Dragatomi in Sacramento put together by good friend Jay222. It's a "Big Trouble in Little China" theme, and I kind of wanted to stay away from lightning and pans that are low - so I painted one of the Upside Down Sinners!

Earlier this year my BFF, Alex Pardee, had his successful solo show at Cory Helford gallery. He always creates a cool story for his shows to revolve around, and this show was no exception. The general premise was: A nightmare hunter who would travel to troubled villages all around the world and play a special music-box to lure menacing nightmares out of the people. He would then fight and defeat the nightmares, and all would be well.
| | |
| --- | --- |
| | |
For the show, Alex documented and painted various nightmares from the story. He asked me if I would create the music box to sit in the show and go along with the story. If you check out my blog, I show how I approached the design and fabrication of the music box.

Whew! Feels like a year went by and it's only been a few months! Coming up I'll be at San Diego Comic-Con, sharing Booth 1716 with the INSANELY talented Skinner and Jon Wayshak. We're gonna have a ton of new work and we'll be doing some live painting too.



FREE PRINT GIVE AWAY IN DECEMBER!
December 1st, 2010
This December, anyone who places an order over $20 (not including shipping) will get a FREE signed 8x10 print of The Great Owl.
The Bridge is Over
I have a painting hanging over at the Lopo Gallery in San Francisco for their "Bridge is Over" show. I took a very literal approach to the title and unleashed the Kraken on our very own Golden Gate Bridge. The show hangs till December 18th.
four
October 1, 2010
I'm pretty proud of this book. Black and white, 32 pages of pencil drawings taken from my sketch book earlier this year. I got back down and dirty to my DIY roots and knocked this baby out just before San Diego Comic-Con. For the first time ever, I actually sold out of them at Comic-Con, so I just re-printed another batch to sell on the site. Here's the cover and some sample pages.

Horrorwood Show
I'll be in a group show on Oct. 15 in LA called Horrorwood over at the WWA Gallery. It's basically a homage to the classic horror film genre - and what better way to show respect than paint a couple of portraits from two of my favorite horror movies.
The Thing is one of my favorite movies, ever. Every single square inch of this movie is awesome; from the creature effects to a heavily bearded Kurt Russel's badassery. I probably watch it once a month. Candyman genuinely scared the shit out of me. Huge black guy with a hook hand, who can also shoot bees from his mouth?!?! C'mon!
Dance Magic Dance
July 9th, 2010
I'll have four new pieces in the Dance Magic Dance show at Gallery R&R. They're putting on a group show that's inspired by the film: Labyrinth.
Opening Reception - Friday July 9th, 2010 7pm - Midnight
Ongoing July 10th - 17th, by appointment

R&R Gallery | Studio (www.TheRandR.org)
929 East 2nd Street Suite 106
Los Angeles CA 90012
For more info about the show, check out the Facebook Event Page
Zerofriends presents:
"SKETCH 4 SKETCH"
A Nationwide Quest To Exchange Inspiration For Inspiration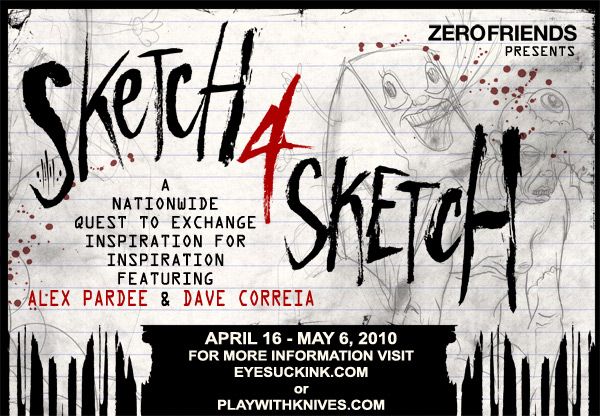 Starting on Friday, April 16 in Sacramento, Bay area artists Alex Pardee & Dave Correia, along with filmmaker Stephen Reedy, are venturing across the United States on a quest for some well–needed inspiration. Utilizing social networking software such as Twitter and uStream, and armed with only a camera, a sketch pad, and raffle tickets (with a HUGE prize—see EyeSuckInk.com for full details) to sell along the way for gas money, the crew of artists will be stopping in over 30 cities in random locations around the country, hoping to not only meet fans and friends, but to trade quick sketches (or ANY kind of art) for quick sketches in order to jostle their imagination and drench them in inspiration, and in hopes of mutually offering some inspiration of their own. Along their journey, some big surprises are going to occur, and we are sure some spontaneous fun will show up, too.
Here is a list of the cities we will be stopping in, but you need to follow us on Twitter or Facebook, or watch our uStream channel to find out where in town we'll be! (Due to the nature of the tour, the schedule is subject to slightly change with no notice)
TOUR DATES AND LOCATIONS:
FRIDAY, April 16: SACRAMENTO, CA
SATURDAY, APRIL 17: SALT LAKE CITY, UT
SUNDAY, APRIL 18: RAWLINS, WY
MONDAY, APRIL 19: DENVER, CO
TUESDAY, APRIL 20: OMAHA, NB & DES MOINES, IA
WEDS, APRIL 21: MINNEAPOLIS, MN & MILWAUKEE, WI
THURSDAY, APRIL 22: CHICAGO, IL & TOLEDO, OH
FRIDAY, APRIL 23: BUFFALO, NY & SCRANTON, PA
SATURDAY, APRIL 24: NYC, NY
SUNDAY, APRIL 25: NYC, NY & WASHINGTON DC
MONDAY, APRIL 26: KNOXVILLE, TN & ATLANTA, GA
TUESDAY, APRIL 27: NEW ORLEANS, LA
WEDNESDAY, APRIL 28: NEW ORLEANS, LA
THURSDAY, APRIL 29: HOUSTON, TX & AUSTIN, TX
FRIDAY, APRIL 30: DALLAS, TX
SATURDAY, MAY 1: ALBUQUERQUE, NM
SUNDAY, MAY 2: PHOENIX, AZ & LAS VEGAS, NV
MONDAY, MAY 3: LAS VEGAS, NV & LOS ANGELES, CA
TUESDAY, MAY 4: LOS ANGELES, CA & SANTA BARBARA, CA
WEDNESDAY, MAY 5: SANTA CRUZ, CA & SAN FRANCISCO, CA



And Trust us, the route doesn't look like Rocky Dennis' dick on accident!
When She Comes to Life,
February 17th, 2010


Anything Can Happen!

I was recently in a group show at the R&R Gallery called "Best Friends Forever". They gave each artist a mannequin and told us to go nuts on it. So I teamed up with Damon Alcorn and Marissa D. to create a mechanical looking sci-fi babe. You can read more about the entire process on my blog.

To go with the mannequin, I made a limited edition print that's now available for purchase in the store.

I just did a little interview over at Color Ink Book. They asked me a few questions and I drew their mascot "Rayola".

Also, I'm going to be at the Emerald City ComiCon in Seattle on March 13-14. I'll be hanging out at the Zerofriends booth (#607) the entire weekend.
This Place Looks Different
January 30th, 2010
Yeah! Finally a new site! It even has that new html smell... sniiiifffff... ahhh. So yea, thanks for stopping by, lemme show you around a bit.
I have a TON of new images in the gallery section. Mostly stuff from the past two years, mixed in with some of my older favorites. As you can see I've been doing more ink and watercolor pieces, as opposed to the digital stuff. There have been two significant contributing factors to this: First, my computer is getting old and slow, which makes it a pain in the ass to work with files over 300megs. Second, and more importantly, there is an aesthetic quality I just can't achieve digitally. I'm more in love with how my ink pieces are turning out right now than ever before.
Next, we have the store area. I just finished a new book which has a short story my friend Damon wrote. The story is a work of non-fiction and features our local public transportation system, BART. For those of you who are familiar with the SF Bay Area, I assume you're fully aware of the fucking travesty that is BART. Not so much the train itself, but the mutants and drones that make up the transit population. One afternoon, my friend wrote me an email of how horrible his morning daily commute on BART was. I must have read it a dozen times before I asked him if I could draw it sequentially for my new book. Its depressingly funny and was a blast to draw. Here are some sample images of the BART story along with a sample of his writing:
Also in the store section are a slew of new prints. As I've been doing more shows the past couple of years, more and more people have been asking me for prints. I've finally hooked up with a company (zerofriends) who can supply me with some nice, large, limited edition giclee prints. The quality on these are great, and I'm really excited to have them available. Here are three of my favorite prints that are now in the store:
In the about area you'll find a little info about me along with some personal photos I've taken with friends and family.

I also have a blog up. Lately, I've been doing some sculpture, and working on some larger 3 dimensional pieces. Along the way, I've been taking pictures and describing the process on my blog. If I've forgotten anything, or you'd like to see more (or less) of something, be sure to email me and let me know.